We are committed to celebrating, showcasing and supporting independently and locally owned shops and services. Below find a rich offering of small, one of a kind businesses. Whether you need a unique gift or self-care treat, shopping our selection of minority-owned businesses never disappoints.  

HOPPI BOX
Toys & Games
San Francisco, CA
Hoppi Box is an awesome subscription box you definitely need in your life, especially if you have children up to three years old. This Asian-owned business sends you a customized box of eco-friendly, sustainable, and BPA-free toys picked out by expert advisors for your child's developmental stage.
JOE'S ICE CREAM AND BURGERS
Food
San Francisco, CA
Joe's Ice Cream and Burgers is a good old-fashioned burger joint and ice cream parlor all-in-one.
BLUME
Beauty Products
Mountain View, CA
Sisters Taran and Bunny Ghatrora are the brains behind Blume, a natural beauty and self-care company for young women aiming to empower the next generation and make them feel confident in their bodies.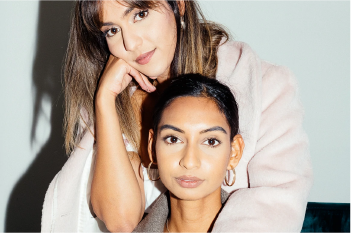 ELE STORY
Clothing
Castro Valley, CA
Ethereal is the word that comes to mind upon the first look at Ele Story's beautiful collection. Handmade flowy dresses, gorgeous accessories, and an adorable mommy and me section elevate your fashion game to storybook-chic. 
ANTOINE'S COOKIE SHOP
Food
Palo Alto, CA
Set an alarm because you'll definitely want to head to Antoine's Cookie Shop when the cookies are fresh out of the oven at 11 a.m. P.S. The cookies and cream flavor is ah-mah-zing.
ANTHONY'S COOKIES
Food & Beverage
Berkeley, CA
While attending San Francisco State University Anthony started baking on a whim. Teaching himself through a crtical analysis of the process of making each batch and paying attention to how each individual cookie baked, he embarked on the quest for the perfect cookie.
CUPCAKIN
Food & Beverage
Berkeley, CA
Fresh, Artisan, Local. Baked from scratch daily using high quality local and fresh ingredients. Taste the difference!
JUSTIN KEITH FLORAL DESIGN
Florist
Oakland, CA
Creating smiles one stem at a time!
There is nothing better than creating beautiful arrangements and bouquets that instantly put a smile on someone's face. 'Justin Keith' came into fruition with the push of family and friends to share his talent with others; and with the need for more POC florist in the bay area.
RED BAY COFFEE
Food & Beverage
Oakland, CA
Red Bay Coffee is at the forefront of what they believe is the fourth wave of coffee- a firm commitment to ensure coffee production is not only sustainable, but a vehicle for diversity, inclusion social and economic restoration, entrepreneurship, and environmental sustainabilty.
MARCUS BOOKS
Book Store
Oakland, CA
The bookstore founders met at Tuskeegee University in 1946. They first found Success Priniting Co.in the Fillmore District of San Francisco and in 1960 founded Marcus Books named after the political activist Marcus Garvey. Sixty years since its opening the bookstore has become literary and cultural that has hosted such authors as Toni Morrison,Rosa Parks, Muhammad Ali Maya Angelou and more.
JOYCE GORDON GALLERY
Art & Culture
Oakland, CA
Joyce Gordon Gallery is a fine art gallery located midtown Oakland,CA. It exhibits art that reflects the social and cultural diversity of the Bay Area and international artists.
HORN BARBECUE
Food & Beverage
Oakland, CA
Soul Passion Tradation. The Horn way features the meat-smoking techniques of Central Texas infused with the deep foodways of the Black South. Horn calls it "West Coast barbecue." It's a cuisine that tells the story of their people and traditions.
CALI K9
Dog Training
San Jose, CA
Our proven reward-based training method, experienced dog trainers, customized dog training packages, board&train programs, and online training courses can give you the tools to help you reach your dog training goals.
KARTER L'ROSE HOME
Home Goods
Brentwood, CA
Karter L'Rose is proud to be a small, black, woman-owned apothecary business. To maintain the integrity of our natural soy/coconut candles, each vessel if hand-poured with a lot of love in small batches. 
TONE
Art & Culture
Memphis, TN
Culture should belong to its creators. In Memphis, our culture is built by Black artists, creatives, and communities. TONE elevates the people and places that make our city drip with character.
BUTTERIFIC BAKERY & CAFÉ
Food & Beverage
Memphis, TN
Tamika Heard took over the 15-year old family business, Makeda's Homemade Butter Cookies in March of 2021. With a vision and a new name, she turning her dream into a reality – serving an array of goodies including those buttery cookies.
FLUFFY BUNNY BOUTIQUE
Womens Clothing
Memphis, TN
Fluffy Girls come in all shapes, sizes and ages. We cater to Plus Size ladies that are not afraid to strut their fluff. Body positivity with no shame and no judgement, with the classy touch of style.
CAMILLE LEIGH
Events & Weddings
Memphis, TN
Getting into the wedding business was a no brainer for me. I have always loved pretty things, organizing and putting things together, and had an affinity for weddings, and just love in general.
COMFORT CAN PROGRESS
Apparel
Greenville, SC
Comfort Can't Progress LLC, is a motivational clothing line whose sole purpose is to help you escape your Comfort Zone at all costs. You will never Progress if you are comfortable and willing to stay the same. 
.
HER CREATIONS LLC
Wedding Planner
South Carolina
Life is an event and we plan to make it memorable, while making your occasion unforgettable.
Luxury Headwear for the Enlighted Mind. Creativetly balanced, handcrafted hats that you will want to keep forever.
Salone Monet is a color inclusive nude shoe brand. Salone Monet shoes make getting dressed easier because they match the most important part of every outfit — you!
BONITA FIERCE
Candles
New York, NY / Global
Bonita Fierce Candles a women owned business celebrates and elevates the cultural crossroads of being Latina and American. 
"LET'S DO MORE"
Youth Basketball Leeds
Leeds City College Academy; Leeds, UK
Promoting youth development in the City of Leeds (expanding across Yorkshire and eventually across the UK) by giving opportunities to young black men, and others including a coach who was working for free coaching basketball to youths and is now fully employed in the business. 
Founder, Loran Lewis, was named as one of the top 100 inspirational black men in the UK in 2022. 
EQUATOR COFFEE
Food
California
As we tread that path from bean to sip, we try to make everything we touch better. Because we believe drinking good coffee leads to good things.
MAXINE'S HEVENLY COOKIES
Food
California
Her famous cookies brought family and friends together: to top off a delicious meal, to celebrate a special occasion, or to simply commune over the joys and challenges of life. 
VIOLET VALLEY BOOKSELLERS
Bookstore
Water Valley, MS
"We strongly believe that books are not simply beautiful objects or investments. Books are life-changing, and sometimes lifesaving; they teach us about strategies of resistance, the building of community, and our place in a long evolution of struggle." 
JUNTO COFFEE
Food
Greenville, SC
Valuing the way coffee can bind folks with vastly different origins and creeds. Driven to create space for shared experiences and common purpose. Determined to bring people together over great coffee.
INK MEETS PAPER
Stationary
Greenville, SC
Handwritten communication is one of the most authentic interactions you can share with someone, and we're passionate about creating products to celebrate and uphold the beauty of the handwritten and the handcrafted.
PARAISO
Plant Studio
Berkeley, CA
A little plant paradise of plant people. Paraíso Plant Studio is a place where people can learn about and buy indoor plants, get help plantscaping their spaces, and find unique plants and one-of-a-kind plant art to add magic to their spaces.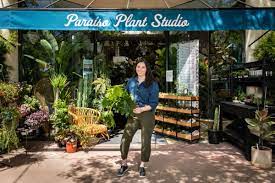 Baked Goods
San Francisco, CA
We are but two humble(ish) babes with a great love for pie and produce. 
HARLOW & GREY
Home & Party Goods
San Francisco, CA
Harlow & Grey is a line of thoughtfully designed lifestyle goods with a mission to honor all of life's moments–the good and the bad– and to celebrate everything in between.
POST SCRIPT
Home Goods & Gifts
San Francisco, CA
post.script. is a bright and colorful gift shop in San Francisco, dedicated to celebrating clean and modern designs. 
FARMGIRL FLOWERS
Florist
San Francisco, CA
A company dedicated to using only the best flowers grown in the U.S., provides a "socially-conscious alternative to leading e-commerce flower companies."
MINIMO
Wine Shop
Oakland, CA
More than just a retail wine shop, minimo is also a neighborhood gathering space for the community to enjoy and learn about wine.
WANG'S MANDARIN HOUSE
Chinese Restaurant
Memphis, TN
Opened in 1983, Shelly and her brother David, bring traditional and contemporary Chinese food to Memphis with the influence from their mother's home cooking .
JUDITH BRIGHT
Jewelry
Nashville, TN
Meaningful jewelry made by women, for women, one piece at a time.
ESTELLE COLORED GLASS

Hand Blown Glass Wear
Shop online!
Estelle Colored Glass is inspired by my grandmother, Estelle, who loved antiquing and had a special day of the week where she visited her favorite shops looking for new treasures in small neighboring South Carolina towns.
PIPCORN
Heriloom Snacks
Grocery stores near you!
HAVE QUESTIONS OR SUGGESTIONS ON THIS CONTENT?
Email us at HyveMarketing@hyvesolutions.com